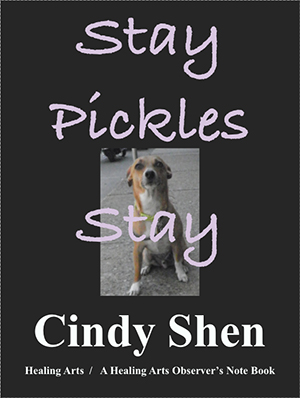 Stay Pickles Stay
$1.99
A photography collection: How Pickles waited…
Pickles was born in July of 2013, a rescue dog from central California. He was 6 months old when my husband and son brought him home in January of 2014.
I was still in a deep period of grief after the passing of my previous dog, Jason. But I finally gave in to my husband, Bill and my son, Daniel's months of begging. They couldn't stand a dog-less home, and I couldn't bear any replacement of my old dog Jason. "Jason is not replaceable" Daniel said to me.
My only requirement was a short haired and small dog. Later that day I was shocked when Daniel handed Pickles to me with a big smile. Jason had a half floppy ear from an injury. This puppy had a half floppy ear just like Jason. Talk about coincidence!
It was extremely difficult for me to accept the fact that Jason couldn't move with us to the east coast. We had a funeral ceremony for him and spread some of his ashes at the beach in Half Moon Bay, California where he loved to run and play the most. The rest ofJason's ashes followed us to North Carolina.
A year ago, an Archangel comforted me when I drew an angel reading card that said "You have a special bond with animals. Your pets on Earth and in Heaven are watched over by angels." In some ways, I feel our pets are angels watching over us. Pickles is my husband Bill's best buddy and photography subject. I am very thankful that Pickles is here to bring joy to our life. And so I wish to share our special moments with Pickles with you!
Cindy Hsiao-Yune Shen