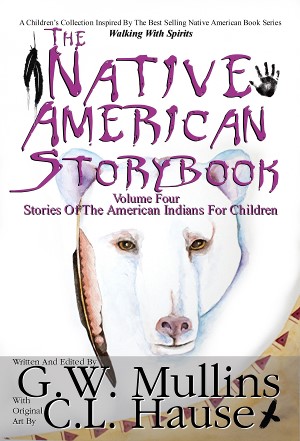 The Native American Story Book Volume Four Stories of the American Indians for Children
$25.99
G.W. Mullins, author of the best-selling series "Walking With Spirits – Native American Myths, Legends, And Folklore Volumes 1-6", follows up his highly successful "The Native American Story Book – Stories Of The American Indians For Children" book release with a fourth volume. "The Native American Story Book Volume Four – Stories Of The American Indians For Children" features new stories which have been selected for young readers while presenting children with a chance to explore Native American history. Contained within 192 pages in 6×9 format, Mullins brings history to life along with original art by award winning artist C.L. Hause.
The stories of Native American Indians have always possessed great meaning. And even though the tribes may vary in location or beliefs, deep within you will find a common thread. Respect for nature and people can be heard in stories from tribes from Canada to Florida. The stories included in this book show Native American storytelling at its best.
Among the stories included in this fourth volume Of the Native American Story Book are: The Woman and her Bear, The Story of Winter Snow, The Warrior of High Cliff, The Sacred Pipe of the T'salagi, The Origin of Fire and the Canoe, The Long Journey, A New Bow for Tani, The Trickster's Great Fall and His Revenge, Grandfather Thunder, The Origin of the Doll Being and many, many more.