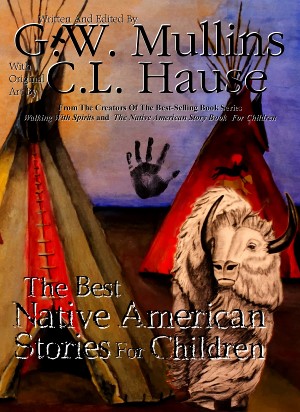 The Best Native American Stories for Children
$14.99
G.W. Mullins, author of the best-selling series "Walking With Spirits – Native American Myths, Legends, And Folklore Volumes 1-6", and "The Native American Story Book – Stories Of The American Indians For Children Volumes 1-5" is back with a new story collection for children. "The Best Native American Stories For Children" features new stories which have been selected for young readers while presenting children with a chance to explore Native American history. Contained within 186 pages in 6×9 format, Mullins brings history to life along with original art by award winning artist C.L. Hause.
Most Native American tribes did not write down or record their history, so we have to find out about their past in other ways. They used games, myths, dance, and impersonation to teach the children of their history and ways of life. Their storytelling was filled with family, heritage and stories of the earth.
It is through storytelling, that the rich history of the Native American tribes is alive and well today. It has been shared and preserved and still pays tribute to fallen heroes of the past. It is through these glimpses into the past, and these stories much like the ones that are contained in this book, that you can see what a proud heritage they possess and how in tune with the Earth Native Americans really are.
Included in this collection are: The Woman and Her Bear, The First Moccisons, At The Rainbow's End, The Gift of Corn, The Gift of the Peace Pipe, How the Deer got His Horns, The Orphan Boy Captured by the Bad Thunderbirds, Dream Walk, The Origin of Fire and the Canoe, How the Milky Way Came To Be, Turtle Goes to War, How the Bear Lost His Tail, The Origin of the Pleiades and the Pine, The Story of the Drum, Ghost of the White Deer, The Boy and the Turtles, The Story of the Buffalo-painted Lodges, The Story of the First Pine Trees, Contents of the Medicine Bag, The Legend of the Dream Catcher, How the Redbird got his Color, The Story of the Camp of the Ghosts, The Story of the Little Burnt Face Girl, Dance of the Dead, The Bear Man, How the Great Chiefs Made the Moon and the Sun, Tipi Etiquette, and many more.